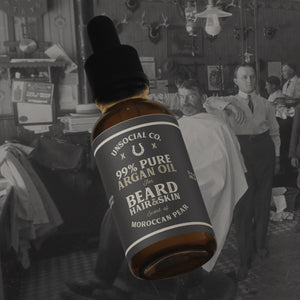 99% Moroccan Argan Oil - Beard, Hair & Skin 60 ml
Regular price $19.99 Sale
Strengthen and thicken your hair & beard with Moroccan Oil
Moroccan oil is an ancient and natural solution to achieve soft and thick beard and hair that everyone desire. It is a one stop solution for common hair health issues. It completely restores and nourishes hair. It reduces scalp inflammation and dandruff. It working wonders for rough, dull and damaged oil.
Packed with nutrients, vitamin E, A, C, antioxidants, linoleic acid and omega-6 fatty acids which is essential for hair nourishment and growth.
It penetrates deep into hair follicles, strengthens hair and thus prevents hair loss. It keeps the skin cells alive at scalp while repairing and preventing the growth of split ends. It provides slip for heat styling.  Argan oil is ideal for taming rough, dry and unmanageable hair.
Benefits
✔️Manageable hair
✔️Healthy hair
✔️Promotes hair growth
✔️Prevents hair loss
✔️Adds luster and volume
✔️Nourishes hair & skin
✔️Works on chemically treated and damaged hair