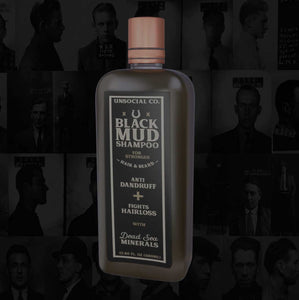 Unsocial Co. - Dead Sea Black Mud Shampoo - Infused with 49 Minerals
Regular price $19.99 Sale
Very often, our hair gets the least minerals and vitamins from the food we eat and with time our hair ceases to be as thick, shiny and strong as it once was might have been. 
So how to do we as men battle this fact, in the great war for our manes!? No crappy mixed products and use only premium ingredients and nutrition to help clean out the bad and grow the good.
How Dead Sea Minerals & Mud works:
Our Black Mud Shampoo is a revitalizing shampoo on the basis of Dead Sea Black Mud having an anti-inflammatory effect and helps to prevent dandruff, nourishes and strengths the roots of hair and improves the circulation of blood in the roots. Dead Sea Minerals moisturize the scalp and the mud cleans it deeply, preventing exfoliation, itch and also normalize the sebaceous glands that  acts to protect and waterproof hair and skin, and keep them from becoming dry, brittle, and cracked.
Benefits

✔️ Cleans and Promotes Healthier Scalp
✔️ Nourishes and Strengths the Roots of Hair
✔️ Preventing Exfoliation & Itch
✔️ Normalize the Sebaceous Glands.
✔️ Anti-inflammatory Effect and Helps to Prevent Dandruff.
✔️ Restores Strength and Elasticity.
✔️ Improves Hair Texture.
✔️ Improves the Circulation of Blood in the Roots.
✔️ Gives Your Hair a Healthy Shine.
✔️ Protects from Harmful Weather Conditions.
How To Use

✔️ Apply shampoo to moistened hair.
✔️ Massage hair for 2 to 3 minutes.
✔️ Rinse thoroughly, apply the shampoo again & leave for 2-3 minutes
✔️ Rinse again.
✔️ Product cleans deeply. For softening of hair, follow with a conditioner.